3 different types of AR explained: marker-based, markerless & location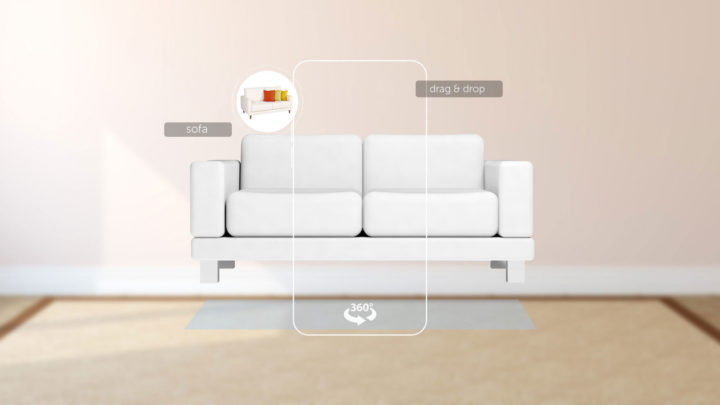 Augmented Reality (AR) brings digital information and virtual objects into the physical space. With AR, the digital world comes to life inside the view captured by your tablet or phone camera. This article is for those who want to dig deeper into how we can trigger the display of digital content. Read our other article on "how does AR work" if you want to know more about the technology that allows AR to come to life.
Types of trigger, Marker/Markerless and Location
There are several key questions we must ask before a user can interact with the digital world. What content do we display on the live camera view? And where exactly should we put that content within the user's view? The answer to these questions depends on which application of AR you choose, as each requires different types of user interaction.
In some cases, we need to know exactly what the user is looking at, we call this "marker-based AR". In other instances, we just need to display 3D augmented reality models, which we can do without a marker, so we call it "markerless AR". Finally, in a few instances we need to provide local information, such as walking directions or road signs. In this case we need to know the user's location, so we use "location based AR". We'll clarify each use case below with some examples. We won't cover web based AR in this article as it functions quite differently -- follow the link for more info on web AR campaigns.
Marker-based AR: the digital world is anchored to the real world
To display an educational animation right onto the page of a book, we need to know that the user is pointing the camera at that particular page. Therefore, the device must first recognise which page you're looking at from the live camera view. This can be achieved by placing a distinctive picture or shape on the page. That picture will be recognised and the animation can start immediately, tracked to the appropriate place on the page. The user can also move the physical book around and see the virtual world "stick" to the real surface of the page.
We call the distinctive picture that can be recognised by the device, the marker. A marker can be anything, as long as it has enough unique visual points. Images with lots of corners and edges work especially well, our AR Creator has an in-built tool to let you check if your image is a suitable marker. Typical examples include any print media, such as logos, packaging, posters or brochures. Or objects, often a product itself such as a drinks can, bottle, or even machinery. Check out how Cisco made its devices scannable to show people how to install them, overlaid in AR.
Markerless AR: the user moves the virtual objects
Imagine an AR application that can place virtual furniture inside your living room. This allows you to try different combinations of objects, styles and location. For this application, the user needs to decide where to place the virtual object. This is called "markerless AR". Sometimes, all we want is to place a virtual video-game character right in front of the user. The interaction here is the game-play, and the user does not need to worry about the location of the virtual objects. Use markerless AR for those applications that do not require an "anchor" to the real world. Typically this means virtual objects will appear to "float" in mid-air. But it is also possible to automatically place a 3D augmented reality object onto a flat surface to increase realism, for instance placing a lamp onto a table.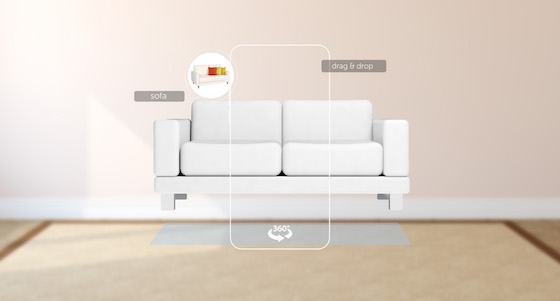 Location based AR: the virtual world is in a physical space
Location based AR ties augmented reality content to a specific location. Imagine walking in a city street you're not familiar with and through your phone's camera seeing a virtual road sign displaying the street name, this is location based AR. And exactly what our AR City app provides, it also allows you to navigate to your destination with directions displayed right on top of the physical roads in front of you. You might also be familiar with a simpler example of location based AR -- Pokemon Go.
Placing virtual objects anchored to the real world is useful for a wide variety of applications, from walking directions to place labels, treasure hunts or even virtual tourist guides and local information. You can place virtual objects right on top of the physical space for example a city street, an indoor shopping centre or an airport. But to make sure the digital AR content appears in exactly the right place, your device must accurately figure out its location. The AR City app relies on a combination of GPS, the compass sensor on your phone, and Blippar's own computer vision system called Urban Visual Positioning, to place virtual objects at the right location.
We have also just launched our Indoor Visual Positioning System this allows for AR content to be triggered from a precise indoor location -- a specific shelf in a supermarket for example or directions to your airport gate.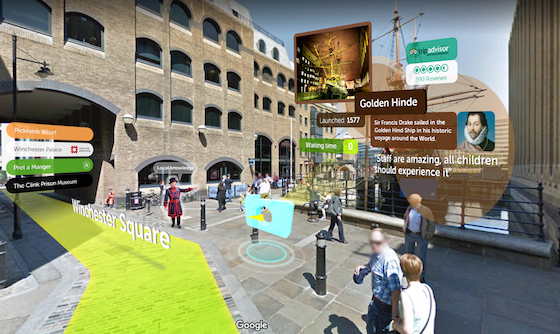 To start creating your own augmented reality, sign up for our Javascript tool -- Blippbuilder Script or our drag-and-drop AR Creator with no coding required.
Or drop us a note to explore which type of AR best fits your requirements.