3 ways augmented reality can benefit Quick Service Restaurants
June 19, 2018
3 ways augmented reality can benefit Quick Service Restaurants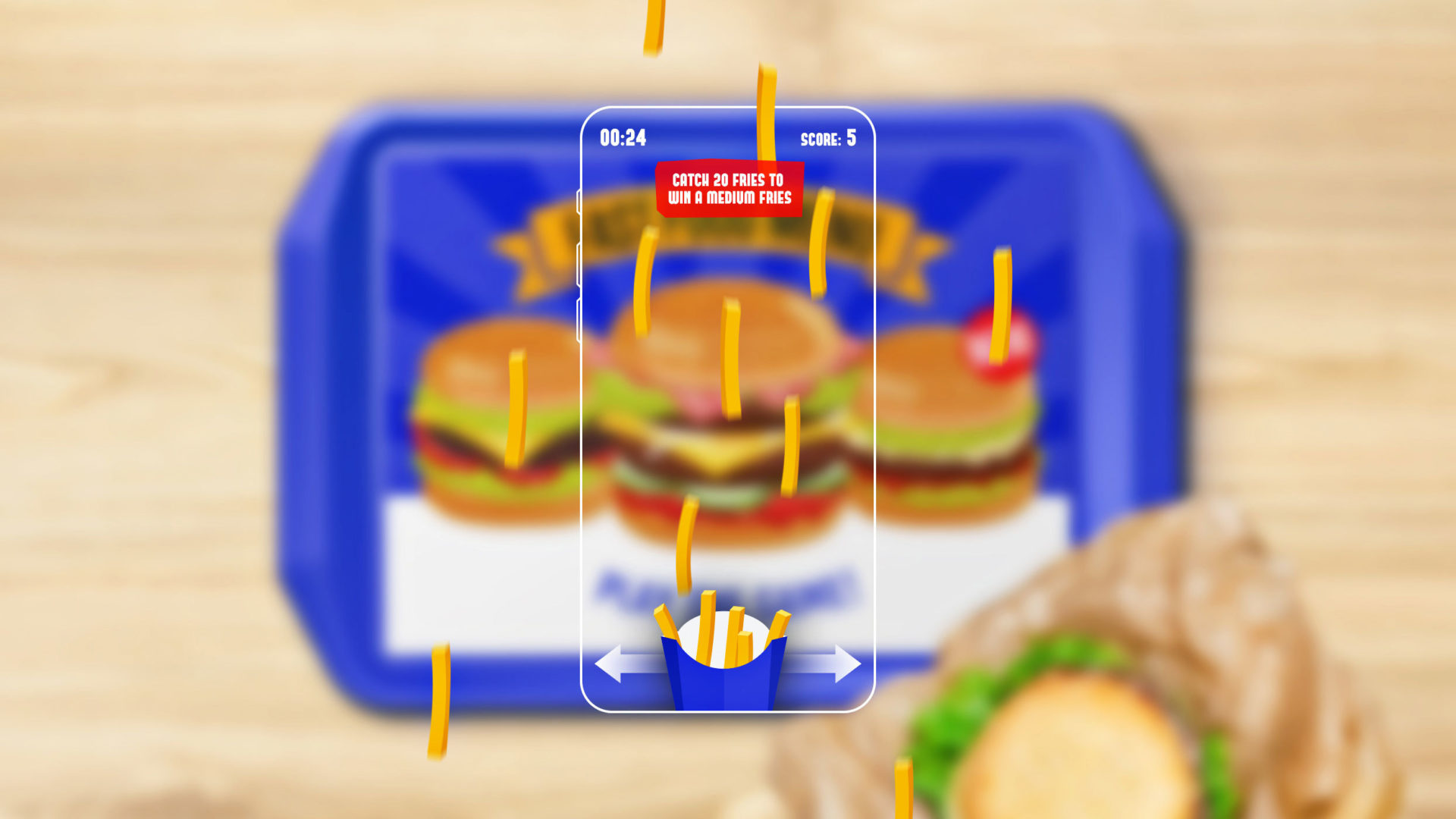 The Quick Service Restaurant (QSR) industry is feeling the squeeze. Despite frequent visits, millennials are unlikely to recommend fast food restaurants to their peers due to a perception of 'poor food quality'.1 Coupled with a decline in eating out -- we're seeing a 35% year on year2 growth of home cooking across all demographics in the US -- and the emergence of the 'fast casual' restaurants, QSRs need to try new approaches to attract new customers and retain existing ones who have more choice but less time.
Augmented reality can enhance your restaurant marketing and benefit consumers and brands across the consumer journey. From the moment you're hungry, to ordering and finally enjoying your meal. Before the cycle starts again.
1. I'm hungry - driving footfall
Many quick service restaurants are looking for ways to re-engage their somewhat alienated core audience of Millennials, who are increasingly disillusioned with fast food restaurants. It's becoming harder than ever to get customers through the door but augmented reality can help.
AR can draw customers in using rewards, curiosity, user generated content and highlighting a brand's social conscience. Augmented reality can also help restaurants align themselves with the move towards healthier alternatives, using AR content to drive education about their healthier, low sugar, meat-free or vegan menu options.
Augmented reality navigation could be triggered from nearby billboards or geo-targeted to lead hungry customers right to a restaurant. Coupled with custom offers and rewards unlocked via augmented reality only when you arrive at the door.
For example, KFC used augmented reality to highlight its social conscience and encourage Millennials to reconsider the brand. Its charitable #MealsofHope and #AddHope festive campaigns enabled customers to take an AR selfie declaring their support for the campaign. For every selfie shared KFC donated a free meal to the World Food Programme. The campaign drove massive awareness and improved brand perception amongst the target audience.
2. I'm ordering - increasing basket size
Beverage orders were down 4% across US restaurants in the last 5 years, which equates to 2 billion servings.3 As a high margin item this can have a big impact on a restaurant's profitability.
Serving up additional meal information, offers and incentives via augmented reality increases basket size. This is particularly powerful if you attach AR content and incentives to high margin products like drinks and meal deals.
You can also reassure customers as to the provenance of your food by activating the menu or products themselves with augmented reality. Customers can scan to learn exactly what the ingredients are, nutritional information and and its journey to their plate. You could also show a visualization of what a meal looks like, giving them the confidence to order more.
Pepsi Max & Subway partnered to encourage customers to purchase a sugar-free Pepsi Max with their meal. Every Pepsi Max cup was AR-enabled, allowing customers to scan for the chance to instantly win a range of festival and gig tickets. The cup also transformed into a portable jukebox playing videos and music. The campaign generated hundreds of thousands of interactions and drove incremental sales of Pepsi Max.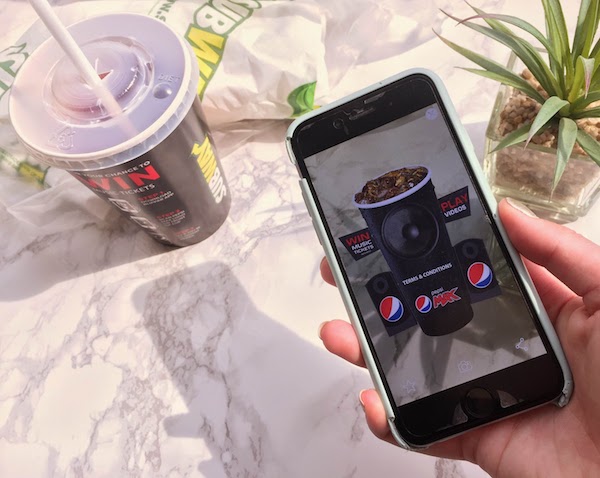 3. I'm eating - enhancing the experience & driving loyalty
Restaurants also need to balance the price versus quality dilemma currently faced by QSRs. Customer satisfaction with meal quality is currently only 59% for fast food as opposed to 71% for fast casual food.4 While AR can't alter the quality of the food it can dramatically enhance the dining experience itself.
Augmented reality can add fun and social activations to the dining experience. Allowing customers to unlock different AR content and promotional prizes each time they visit, encouraging frequency. Turn your trayliners into a game, your cups into a new 3D dimension or your tables into a photobooth. AR is also a great way to mobilise an existing audience and encourage and reward them each time they visit.
McDonald's transformed their trayliners into an augmented reality advent calendar. Customers could scan the calendar each day of advent for a different AR experience, from selfie masks, to sleigh ride games and more. There was also the opportunity to instantly win Amazon vouchers every day. The experience kept customers coming back day after day with 24,000 users returning on multiple days.
Interested in using augmented reality in your restaurant? Contact us today to get started.
1http://uk.businessinsider.com/millennials-fast-food-habits-2015-6
2http://uk.businessinsider.com/millennials-dining-habits-are-different-2015-3
3https://www.npd.com/wps/portal/npd/us/news/press-releases/2015/restaurant-beverage-orders-decline-as-consumers-tastes-shift/
4https://www.forbes.com/sites/darrentristano/2016/09/14/the-number-1-thing-fast-food-consumers-care-most-about-and-its-not-healthy-food/#1a8e40534326